37th Egham Real Ale & Cider Festival
Thursday 28 – Saturday 30 July 2022
We will be hosting a social on the 30th with Steve. starting from 1pm.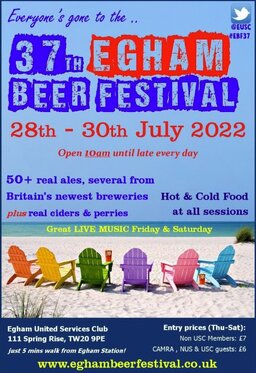 Opening times, entertainment & prices:
Wednesday – 27th: 1700 – 2300 (members preview night)
Thursday – 28th: 1000 – 2300
Friday – 29th: 1000 – midnight
Saturday – 30th: 1000 – midnight
The festival is open to non-members. Entry to all sessions between Thursday and Saturday costs £7.00.
We offer a £1 discount to NUS, CIU & CAMRA card carrying members and also guests of EUSC Club members. Please make sure you produce a valid NUS, CIU or CAMRA card to avoid been charged full entry price. Entrance is free to EUSC members throughout the festival.
The club is a short walk from Egham station.
Check out the Egham united Services Club for further info.